Seeing Blue: New Draper Anti-Sweats are a Summer Essential
Becky Shipps
"Good ride, bad ride, tough ride, light ride – EVERYTHING I ride gets grass and the magic blue sheet. They recover better and are much less cranky."

– Beloved and Sometimes Overly Candid Customer who wishes to remain Anonymous
One of the most common questions I receive is "how do I use *insert product*?". The answer is a little different for each product, but is always along the lines of "just put it on and leave it on for as long as possible." Yes, really. Celliant® is actually THAT easy to use! Our new Anti-Sweat Sheets are no different. Here's the scoop on our newest and most versatile addition to the equine product line.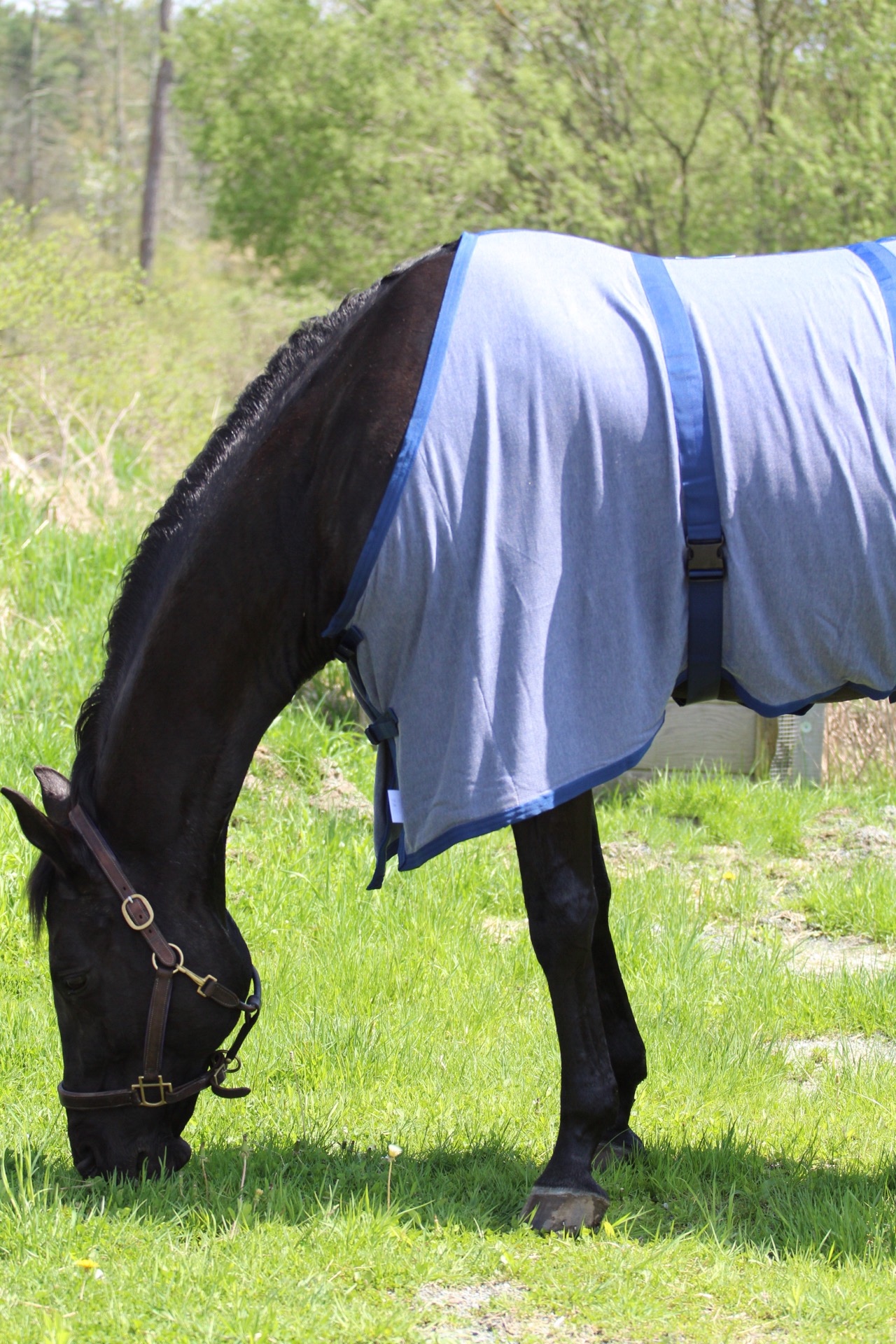 They're soft.
Before we chose to change the fabric in our Anti-Sweats, we thought long and hard about what qualities we wanted in our new materials. I wanted something soft, absorbent, very strong, and resistant to wrinkles, shavings, and stains. I demanded a fabric that draped well and looked good… Basically I wanted it all! Luckily for me, our fabric engineers were able to come up with a perfect material content and fabric formation to suit my infamously picky self. Believe it or not, the Anti-Sweats have the same material content as our wildly popular Blue T-Shirts. The difference is the fabric formation – we knit the Anti-Sweat material in such a way that it was strong enough for use on 1200 pound animals but still soft and comfy. After all, a horse's skin is just as sensitive (if not more sensitive) than our own so whatever we put on them has to be comfortable.
They match every coat color. 
Light bay, dark bay, gray, liver chestnut, chestnut, red, black, paint, dun, buckskin, palomino, roan, appaloosa – our light blue/gray sheet looks sharp on every coat color. Plus, a lighter colored fabric means less heat in the summer time.
They're environmentally friendly.
Although this isn't usually something equestrians look at when choosing a product, being environmentally friendly is something Draper Therapies is committed to. Our Anti-Sweats are 50% Celliant and 50% Tencel®. You already know all about Celliant, but what is Tencel?
"Tencel or lyocell is a sustainable fabric, regenerated from wood cellulose. It is similar in hand to rayon and bamboo, both regenerated fabrics. However, Tencel is one of the most environmentally friendly regenerated fabrics, for several reasons. Tencel fibers are grown sustainably.
Unlike rayon and bamboo, Tencel's supply chain is transparent. It is obtained from eucalyptus trees that are grown on farms—no old growth forests, genetic manipulation, irrigation, or pesticides are used. Tencel eliminates the negative environmental impacts of traditional fiber processing, using new sustainable technologies.
Tencel has some distinct advantages over traditional fibers in terms of chemical processing, which can often be extensive and toxic. For example, Rayon manufacturing generates highly polluting air and water emissions, uses catalytic agents containing cobalt or manganese, and creates a strong, unpleasant odor. On the other hand, the chemicals used to produce lyocell fibers are nontoxic. In addition, the cellulose or ground pulp used for Tencel is treated in what is known as a closed loop process in which these solvents are recycled with a recovery rate of 99.5%. The tiny amount of remaining emissions is decomposed in biological purification plants. Because of the nature of the material, the processing never requires bleach." (taken from EcoMall.com)
The fewer chemicals we expose our horses (and ourselves) to, the better. 
They're light-weight enough for year-round use. 
These sheets were designed specifically for year-round use. They're light, absorbent, and can be used the same way you'd use a cooler or Irish knit. Because of their design (straight belly straps, no leg straps, and light weigh fabric), they're best used when trailering, pre or post workout, after baths, or any time your horse is supervised (either on a lead or on cross ties). As with all things Celliant, the longer your horse spends in the sheet, the better the results. There are no build up times and the sheet comes to you ready to be used! *Note: If you live in a really hot climate, there may be times when it is too hot to have ANY fabric on your horse. During those times we do not recommend using the Anti-Sweat (or any sheet) as it may interfere with your horse's natural ability to sweat and cool him/herself. 
If you've been trying to figure out how to get the most Celliant bang for your buck, the Anti-Sweats are for you. To sweeten the deal, I even have a coupon* for you: 10% off all new Anti-Sweats and Free Shipping with coupon code "BestBlueSheet".

Coupon expires 12.31.2018. Not valid with any other coupon or sale. Other exclusions may apply. Email info@drapertherapies.com for more info.