Representing the Red, White, and Blue: Katherine Bateson-Chandler and Alcazar To Represent Team USA at Nations Cup CDIO3* Odense
Becky Shipps
Congratulations to Draper Therapies Advisory Board Member Katherine Bateson Chandler for being chosen to represent the USA at the CDIO3* in Odense!
Wellington, Florida (April 22, 2016) — After completing a successful winter season at the Adequan Global Dressage Festival in Wellington, Florida, Grand Prix dressage rider and trainer Katherine Bateson-Chandler is headed to her summer home base in England. Paired with Jane F. Clark's 11-year-old KWPN gelding Alcazar, Bateson-Chandler has consistently stayed in the top rankings during intense international competition, and plans for this summer to be no exception. Most exciting on the 2016 summer agenda is the pair's next competition, where they will represent The Dutta Corp. U.S. Dressage Team at CDIO3* Odense on May 12 – 16 in Odense, Denmark.
"I am honored and thrilled to represent the USA as a member of the Nations Cup team in Odense," Bateson-Chandler says. Led by mentor and Chef d'Equipe Robert Dover, Bateson-Chandler joins fellow teammates Susan Dutta, Jennifer Hoffmann, and Beatrice Marienau on the U.S. Dressage Team.
"My favorite thing is to be part of a team— there is nothing else like that feeling of camaraderie. It's so fun to be able to support your teammates," Bateson-Chandler adds.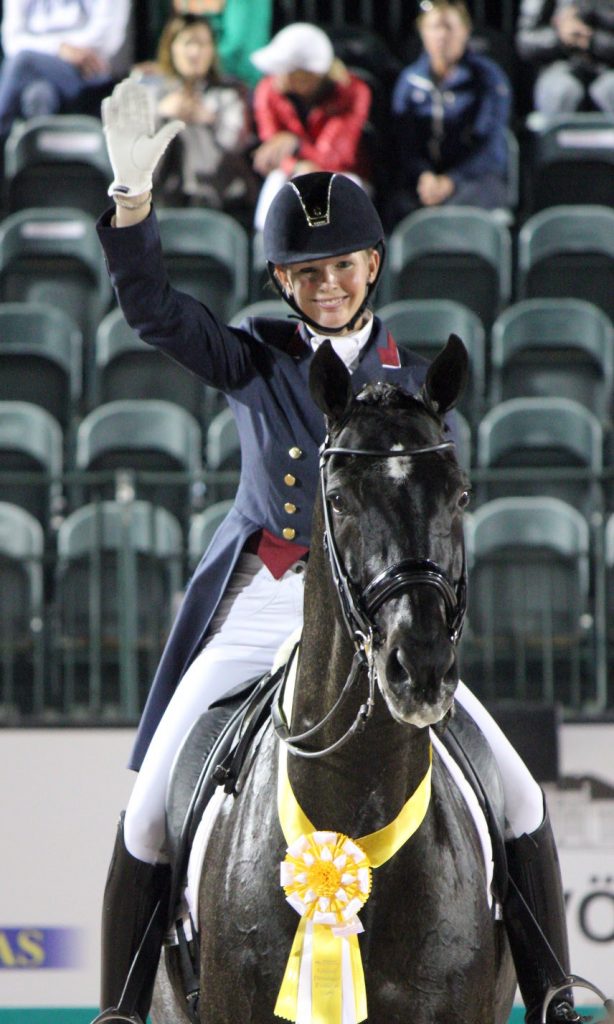 Bateson-Chandler remarks on how the Wellington, Florida competition season was unifying for all dressage riders around the world by creating a sense of support and rapport amongst fellow competitors through the 12-week series. "This season I felt such an amazing sense of community between everybody in Wellington. I felt that much more than ever before, and that's a very special thing." She is excited to further this unifying energy during the Nations Cup competition.
While in England, Bateson-Chandler trains with British Olympic Gold Medalist Carl Hester. She will be preparing for four other competitions across Europe, as well. "Right now I want to keep a steady show and training schedule, without taxing my horse," she explains.
Last summer, Bateson-Chandler wrapped up a successful European dressage tour with a strong 71.350 percent finish at the Comite Equestre De Saumur CDI 3* in Saumur, France. Before that the pair competed at the Dressage at Hickstead CDIO 3*, where they were the highest-placing American combination.
Bateson-Chandler offers training and coaching services through her business KBC Dressage. Her international Grand Prix experience ensures that her students— both human and equine— have the competitive edge necessary for success in the dressage ring. KBC Dressage offers training services, lessons, clinics, and prospect selection for clients. For more information about Katherine Bateson-Chandler, visitwww.kbcdressage.com.  – By JRPR Inc.