Shipping & Returns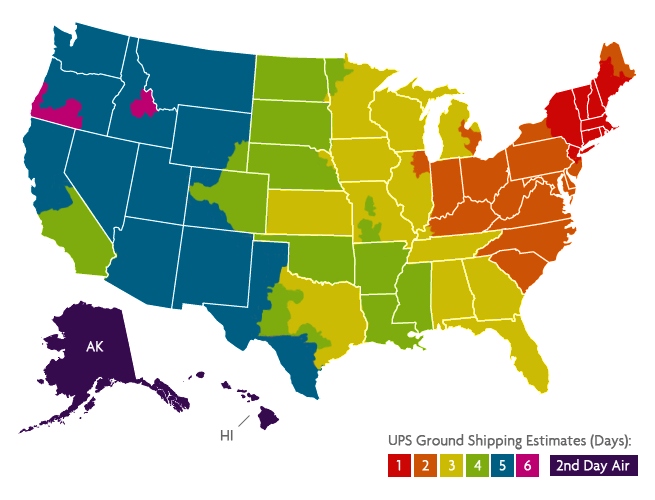 Shipping Policy
Draper Therapies uses the United States Postal Service (USPS) and United Parcel Service (UPS) for shipping packages worldwide. FOR LARGE OR OVERSIZED ITEMS, WE HIGHLY ENCOURAGE USING UPS.
Order Delivery
All new orders placed Monday-Friday are shipped as quickly as possible. Please note that as of May 24, 2021, we will be shipping one day per week. We will make every effort to accommodate customers as best we can. 
Package time in transit will depend on where you are located and what shipping method has been selected. To determine the number of business days it takes to ship to your state, please refer to the above picture provided by UPS for a general guideline of ground shipments. All international orders will be shipped via USPS unless otherwise specified. Expedited orders will be shipped with UPS. If customer uses a PO Box, shipment will automatically go out via USPS as UPS cannot deliver to PO Boxes. Sales Tax: Massachusetts residents will be responsible for applicable sales taxes for all purchases.
Please note that shipments may take longer to arrive due to shipper delays. We ask for your patience and will be happy to help you track your shipment should you need help!
Expedited Shipping
Expedited shipping is available for all items currently in stock and desired method can be chosen upon checkout. Any expedited orders will be shipped via UPS. Prices are determined using the current UPS rates based on the weight of the order, all items are rounded up to the nearest pound. Orders placed will be shipped as fast as possible after order placement. Delivery times do not include weekends or holidays. Saturday deliveries are available in some areas for an increased shipping charge with Next Day Air shipping only. For all deliveries, UPS and USPS is responsible for delivering the package on time. Certain circumstances may arise where UPS and USPS is unable to deliver expedited packages on time due to inclement weather, remoteness of location, etc. All efforts will be made by Draper Therapies to ensure that packages arrive on time as ordered, but we cannot guarantee that UPS and USPS will always be able to guarantee an on time delivery.
International Shipments
International shipments are available for all items currently in stock and desired shipping method can be chosen upon checkout. To save on costs/duty taxes, USPS has shown to have the greatest savings for most customers. If customers prefer, another shipping method can be chosen. Orders placed by noon EST Monday – Friday will be shipped within five business days, pending proper credit card authorization. Shipping times will vary, but email tracking will be provided to each customer to ensure the whereabouts of their package. Customer will be responsible for any taxes or duty charges.
Returns Policy
After June 1, 2021, we will no longer be accepting returns or exchanges.
In the event that you receive a product with a manufacturing defect, we will be happy to take the product back the product(s) within 30 days or the original ship date. Once the product is returned, we will evaluate the product and return the amount of your purchase to your credit card, we will not refund you any shipping paid. We ask that for a maximum refund, the product(s) be returned to us clean and in the packaging they came in.
Coupons
Every so often we offer coupons and sales on our full priced products. These promotions are at the sole discretion of Draper Therapies and our management. In general, they will not apply to seconds, clearance, sale, items that receive a bulk discount, or any product that is part of our philanthropy project or of which a portion of the proceeds are donated to charity. Coupons are valid during their stated time period. Free shipping coupons will be applicable to orders where the shipping address is within the United States only. Draper Therapies management reserves the right to extend coupons and sales at their discretion.
Our Guarantee
We believe in making the very best products for you and your families (which include your horses, dogs and cats) to enjoy. We source all raw materials as close to home as possible, with 95% of all the materials used in our products coming directly from the USA. We also work with quality manufacturers in the United States which include, Draper Knitting Company (our parent company), Saratoga Horseworks, Frilly Fillies, Fabri-Quilt, Achieve-02, Wilkers Custom Horse Products and Ragged Mountain.
Since all of our products are created here, we can control the quality. If the products are not holding up to your standards, please let us know so that we can absolve the problem moving forward.
The Fine Print
If you have any questions or if there is anything we can do, please call us at (800) 808-7707 or email info@drapertherapies.com. We are always happy to help you in any way that we can.
Draper Therapies
28 Draper Lane Canton, MA 02021
Customer Service Number 800-808-7707