OTTB LOVER ALERT: We're giving away a Kentucky Derby Themed Shoulder Wrap!
draper_admin
We saw this fabric and knew we had to do something with it… And now we're giving it away!
We're kicking off the holiday season with a gift that's perfect for anyone who's ever loved an off the track thoroughbred (OTTB). Our Kentucky Derby themed shoulder wrap has a beautiful derby print on one side and our Celliant® material on the other. This is the perfect trainer gift, barn holiday party Yankee swap item, or gift to a horsey friend.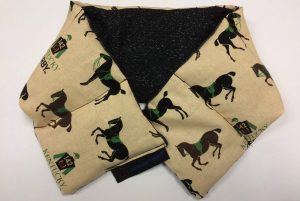 Our Shoulder Wraps are an approximately 20″ x 4″ and designed to relieve pain, tension, and discomfort in the shoulders and neck. The derby themed wrap is gray (37% Celliant® (Polyester) and 63% Cotton blend fabric)/cotton shell and the inside is filled with flax seed. It can be placed in the freezer for soothing cool therapy or in the microwave for a soothing heat.
The give away begins November 20th and we'll pick a winner on December 1st!
For more information about our Shoulder Wraps, click here.
For more information on Celliant®, click here.