Quarter Sheet Time!
Becky Shipps
Fall in New England means chilly temperatures, beautiful foliage, and freshly clipped horses. Even for those whose show season ends after September, body clipping can be a useful and necessary step to keeping horses comfortable during the finicky fall weather. My big gelding is and always has been a sweater – he's in  full work most of the year (with a break in the late fall) and sweats up easily after his winter coat comes in.  In order to keep him comfortable and clean, I usually clip him late September/early October. Most years that works just fine and we only need a stable sheet at night. Other years, however, temperatures dip a little earlier than expected and we need our quarter sheet to warm the big guy up!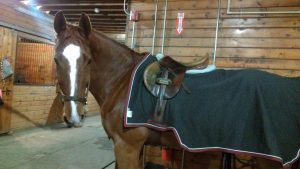 The Draper Quarter Sheets are designed to go underneath the saddle for a good reason – the fabric helps keep the back and hindquarter muscles supple and ready to work and the saddle keeps the sheet in place. I don't usually use a saddle pad under my quarter sheet, just our regular lifter pad, but many of my barn mates do (mainly to keep their quarter sheets cleaner). There's also a tail strap in the back that I like to use to keep the quarter sheet in place on blustery days when we ride outside.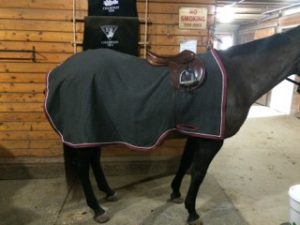 I'm very fortunate that my horse doesn't get silly or cold backed after being clipped, but these quarter sheets work very nicely on horses that do!