Tails and Trails: Meet Draper's Newest Advisory Board Member, Geneva Coleman
Becky Shipps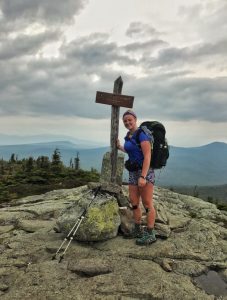 As a brand, historically Draper Therapies focused primarily on equestrian sport… But we're ready to start branching out!
We have started expanding our reach into the canine world with Advisory Board member Kristine Kubota
.
Now, we are expanding our reach into the world of hiking/running by adding Geneva Coleman, an avid thru hiker, to our list of board members
.
"Hey yall! I am excited to be joining the Draper team, as is my pup Scout! I have always took part in sports and being as active in beating up my body as I can. Most of that time

being involved

in horseback riding, running, and hiking.

Over the past two years I decided to trade in my riding boots for a pair of trail runners and have been putting in a lot of miles on my own two feet

!

In March 2017, Scout and I started our life changing adventure of hiking the Appalachian Trail- a footpath that travels from Springer Mountain in Georgia to Katahdin Mountain in Maine, spanning over 2,100 miles and 14 states

!

This 6 month trek was the hardest thing I have ever done, but also the best thing that has happened in my life and I will be forever grateful for that experience

!

After pushing my body to the extreme every day, I am now eager to reward it with the help of Draper Therapies, and

hopefully

help other athletes out there (four legged included of course)

!"
Role Model: Jessica Mills "Dixie" of Homemade Wanderlust
Goals: Thru hike the Pacific Crest Trail (2,650 miles) and the Continental Divide Trail ( 3,100 miles) to
accomplish
the Triple Crown
!
Geneva and Scout put some serious wear and tear on their bodies and we're going to help them keep feeling their best. We're excited to be a part of their amazing adventure!