2017 Philanthropy Project Results
Becky Shipps
2017 was quite a year for Draper Therapies! Between the launch of our new No Bow Wraps and Dog Coats, and Advisory Board member Selena O'Hanlon and her mount, Foxwood High, winning the Fair Hill International Horse Trials AND being USEA Advanced Horse of the Year, it didn't seem like the year could get any more amazing. We were wrong.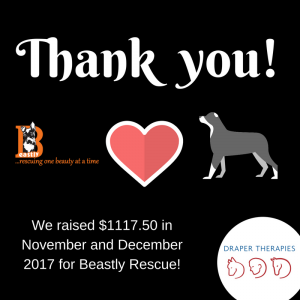 Earlier this fall we decided to change shake things up with our philanthropy project. For the months of November and December, half the proceeds from sales of our new Draped in Health Blankets would go to Beastly Rescue, a small women-run canine rescue group who pulls, heals, and finds homes for dogs who find themselves at the New York Animal Care and Control centers.
Rescue dogs are a cause near and dear to our product manager's heart… and clearly a cause near and dear to our customers as well! We are thrilled to report that, with your help, we have raised and donated $1117.50 to Beastly Rescue. Giving back is the best way to start a New Year and we are so grateful to be able to help some down-on-their-luck dogs get a new lease on life!
We are also thrilled to announce that we will continue to donate to Beastly Rescue for all of 2018! We will also be extending our free shipping coupon (Free shipping on any order containing a DIH blanket – just use coupon code BEASTLY at checkout).
If you're interested in purchasing a Draped in Health Blanket, click here.
To learn more about Celliant®, click here.