Draper Advisory Board Member Michael Tokaruk Earns Leading Open Jumper Rider Bonus at Pin Oak Charity Horse Show
Becky Shipps
Draper Advisory Board Member Michael Tokaruk has been having a wonderful 2016! After a great trip to the Winter Equestrian Festival (WEF), Michael and his team at Tokaruk Show Stables have continued their winning ways at the Pin Oak Charity Horse Show. Congratulations to Michael, his clients, and his fantastic string of horses!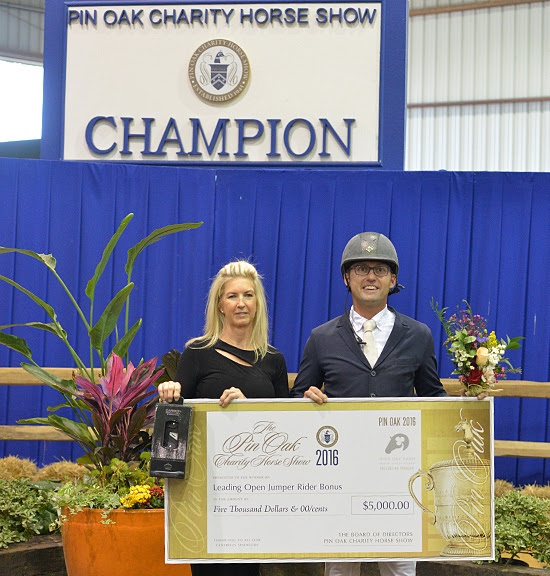 As Taken from the Chicago Equestrian Press Release – Katy, TX – April 5, 2016 – Michael Tokaruk of Collierville, Tennessee, collected numerous top ribbons in the jumper ring during the two weeks of the Pin Oak Charity Horse Show in Katy, Texas, with his talented string of jumpers. His consistency earned him the $5,000 Leading Open Jumper Rider Bonus at this long-standing prestigious horse show.
 
"I am honored to end up the leading Open Jumper Rider," said a grateful Tokaruk. "Many thanks to the horses Vanrock, Troya Montecristo, United, Baton Rouge and Cupid Shuffle who helped me win 8 classes and a lot of great ribbons over the past 2 weeks. And of course thanks to their very supportive owners, sponsors and my whole team."
One of his big money earners was Alex Turner's Vanrock, who won the 7 year-old Young Jumper Championship at the Kentucky National last September.  The young horse won six classes over the two weeks of Pin Oak between the 1.25m and 1.35m jumpers and earned the championship in the 1.25m.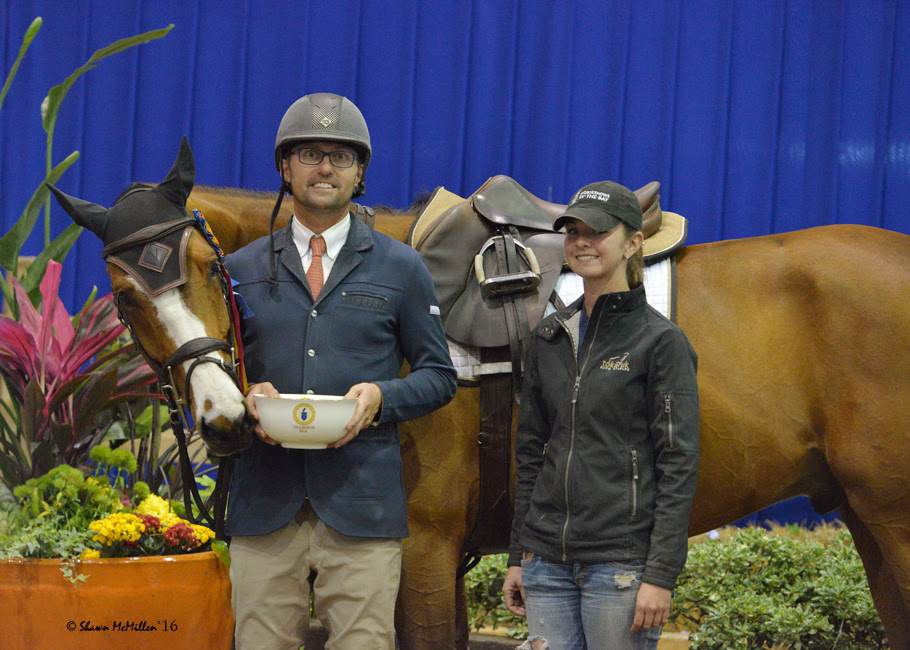 "He's so fun, fast, careful and very smart," said Tokaruk. "He wants to be clean and tries hard every time. He's small so I call him my 'super pony'."
Another blue ribbon winner in the 1.35m for Tokaruk was Troya Montecristo, owned by Castle Point Farm LLC and Lindsay Strafuss. Tokaruk also rode Strafuss's second mount, United, racking up points for the leading rider bonus.
 
Strafuss mounted up for the Amateur Owner Jumpers and earned the red ribbon for her second place finish on United in the A/O classic week two. She also took the second place spot right behind Tokaruk in the 1.35m jumpers on Troya Montecristo for a one-two punch for Tokaruk Show Stables. Moving into the Medium Amateur jumpers the second week, Strafuss stayed in the top five ribbons between her two mounts.
In addition to client owned horses, Tokaruk piloted his sale horses to top ribbons. Baton Rouge, owned by Jennifer Gates, is a new ride for Tokaruk and still he earned top prizes in various divisions on this mount, including a top 10 finish in the $10,000 1.30m Gambler's Choice.
 
In the Grand Prix ring, Tokaruk won his seventh consecutive grand prix ribbon with Charlie Jayne's Cupid Shuffle in the $30,000 Grand Prix, earning top 12 finishes both weeks of Pin Oak.
"It's a fantastic show," said Tokaruk. "They make it a special event and put the "show" in horse show. It's a cool thing to offer a reward for consistency outside of the grand prix ring. I have a nice string of horses that can compete in these classes during the week and it's great to be rewarded when typically those divisions don't give a lot of money. I will definitely go back to this show, I plan my schedule around it."
 
Tokaruk runs Tokaruk Show Stables, where he successfully trains hunters, jumpers and equitation riders and has a selection of quality horses for sale.
 
For more information, please visit his website or contact him through Facebook or Instagram @michaeltokaruk.
For more information about this story, please contact its author, Brenda Mueller for ChicagoEquestrian.com – 312-715-7433 or Brenda@ChicagoEquestrian.com