3 Tips for Keeping Your Saddle Pads Clean
Becky Shipps
Keeping your saddle pads clean and looking show-ready doesn't have to be difficult. Here's three tips to keep your saddle pads looking new longer.
Wash regularly. If you're trying to keep saddle pads (or any garment) looking its best, don't skimp in the washing department.  
"It is not necessary to use a cleaning agent on these items every time they are laundered," says Yvonne Bryant, of Equine TLC, an equine equipment laundering and repair service in Dickerson, Maryland. "If you clean them with water frequently, you will be amazed at how clean they can remain."
Keep in mind that, although Draper Therapies' saddle pads are machine washer and dryer safe, a good hosing in between machine washings can help take off a great deal of the dirt and hair!
Yvonne goes on to say that the quality of the item and how it was made will dictate things like pilling and shedding, so if you want your saddle pads to last, it is best to invest.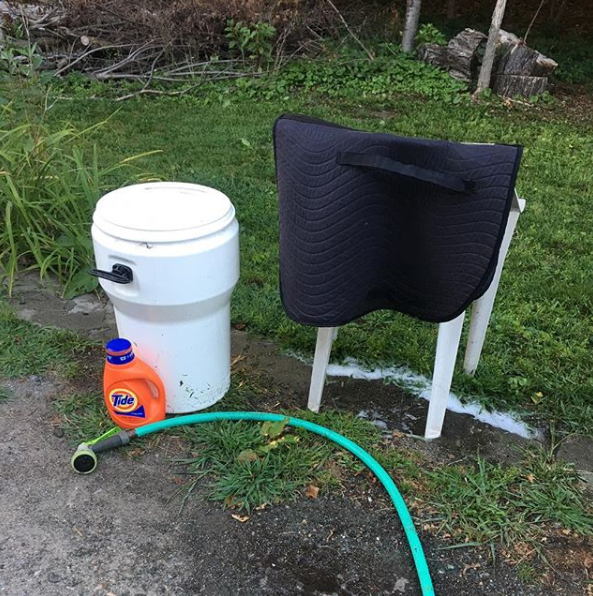 Clean sheepskin carefully. There are two different types of sheepskin – actual sheep hair still attached to the original skin and sheep hair that has been attached to a synthetic base. The latter type is more common, however both need to be cleaned carefully to avoid ruining the garment.
Both types of sheepskin can be cleaned in a washing machine using a clear, cold-water wash set on a strong machine action. Avoid washing sheepskin items with other items (it makes the hair pill) and never bleach it! Many people use black boot polish on their show boots and it accidentally gets on their sheepskin saddle pad. Unfortunately, once boot polish has gotten on their hair it is too late.
Always let sheepskin items air dry – putting them in a dryer can cause the hair to mat.
Don't forget the details. Important details on the garments, like Velcro, are often overlooked. "A wire dog brush is a fantastic way to clean Velcro hooks," says Yvonne.
The Velcro hook is the rougher part that lint, hay, and hair tent to get stuck in. Make sure you clean the Velcro on your polos, saddle pad keepers, and blanket closures so that they keep working effectively.