Creating a Unique Solution: Contoured Dressage Pad Prototype
Becky Shipps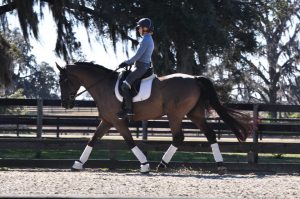 Earlier this year, advisory board member Charlotte Merle Smith, one of our longest standing advisory board members, presented us with a unique design challenge. Charlotte is a para-dressage rider (and all-round super woman) who uses dressage whips to communicate with her mount, Firewalker. She loves our XL Dressage Pads, but the square shape was causing a problem – when Charlotte would try to tap Firewalker with her whip, she would touch the saddle pad and not the horse. She asked us if we could make a pad for her with a slightly different flap so that Firewalker would be able to feel her cues… And we are thrilled to say that we have a prototype!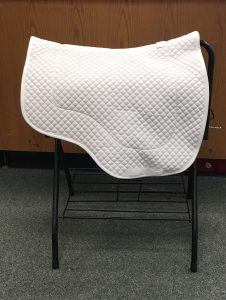 To make a saddle pad, it's always best to work with someone who specializes in, well, saddle pads! We talked to our friends at Wilkers Custom Horse Products, and they helped us take the design in our heads and make it into something physical. Our first prototype features Wilkers diamond quilted pad on the top and our gray fuzzy 50% Celliant®/50% wool material on the underside.
Our contoured dressage pad prototype is on it's way to Charlotte and we can't wait to hear her feedback. As always, we encourage anyone and everyone who uses our products to send us feedback. Your input is valuable to us and helps us design new products or revitalize existing designs. So if you have an idea, don't be shy – tell us!